Drive for rights of domestic workers in Bahrain
A CAMPAIGN to promote the rights of domestic workers across the region was launched in Bahrain.
Details
A CAMPAIGN to promote the rights of domestic workers across the region was launched in Bahrain on Oct 1.
Details of the campaign were discussed at a two-day workshop organised by the General Federation of Bahrain Trade Unions (GFBTU) in co-operation with German institution Friedrich Ebert Stiftung and the International Domestic Workers Federation (IDWF).

It was held at the Crowne Plaza under the theme "Migrant Domestic Workers Advocacy and Empowerment in the Gulf Region".
"There are 100 million domestic workers in the world, but they are not organized or dealt with properly because it involves a home and not an actual workplace, despite the matter involving work," said GFBTU secretary general Hassan Al Halwachi.
There has to be urgent solutions with a long-term effect and amongst them is having proper legislation that protects domestic workers, knowing that 10 percent of the total domestic workforce across the world is children."
GFBTU deputy secretary general Abdulqader Al Shehabi said domestic workers in Bahrain made up 15pc of the workforce.
"Of the 110,000 domestic workers here, 10,000 are free visas with wages ranging in average between BD70 and BD120, who make remittances of $450 million a year," he said.
"Unfortunately, the law prohibits checking homes to ensure domestic workers are treated well as some are being treated as a commodity.
"Domestic workers are missed from legislation and are not covered within the labour law, with them just being mentioned as an exception.
"And an example of neglected rights is the inability to change sponsors and for that we believe a housemaids' union needs to see the light of day."
Tafawaq Centre head Mariam Al Ruwaie said the existing Labour Law was discriminatory and lacked incentives for domestic workers.
"There is no weekend and end of service bonus and the list goes on and on," she said.
"Domestic workers don't know their rights at homes and this needs a campaign to raise awareness amongst resolving all problems."
GFBTU representative Karim Radhi praised Kuwait for introducing a new law for domestic workers.
"The whole situation is ridiculous as domestic workers don't own a car and with it can't complain about ill treatment." Domestic workers are shut off from protection even if they are partially treated well," he added.
"We need to do a lot for migrant domestic workers in these states. We found two young girls from Kenya and Ethiopia in a shelter in Bahrain. The one from Ethiopia can't even communicate in English. You can have more understanding to the situation
of these poor migrant domestic workers, and most of them are from Africa and Asia," Vicky Kanyoka, IDWF Africa Coordinator shared after the workshop.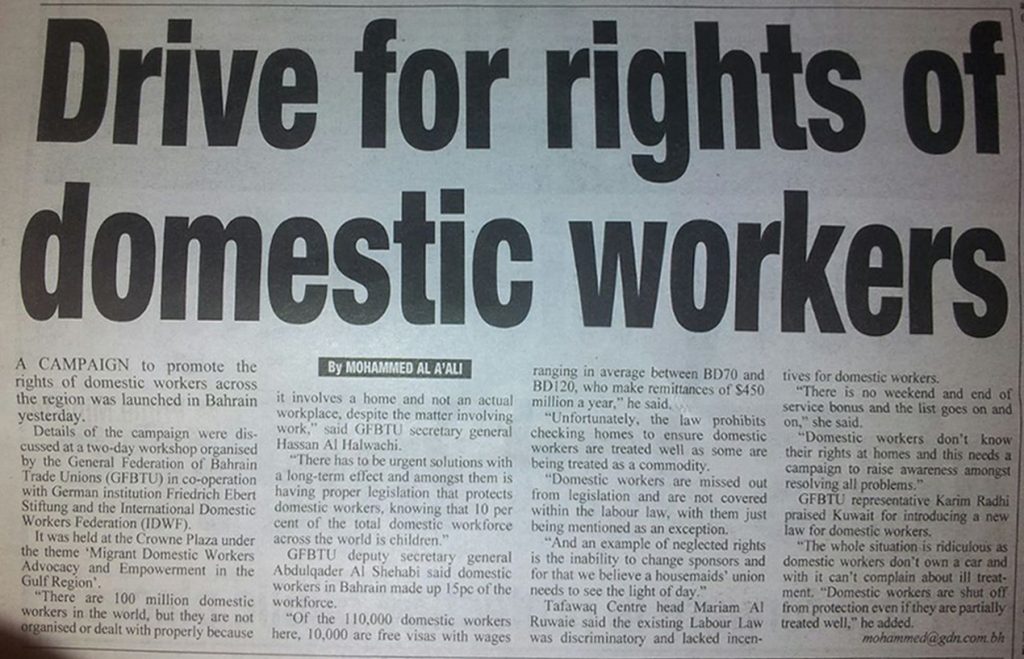 Photo: Vicky Kanyoka