IDWF Calendar, Jordan
Details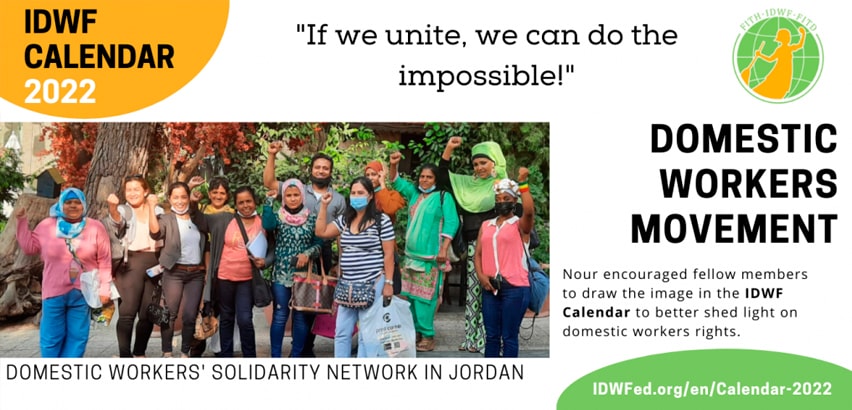 Nour[1] came to the Middle East from Ethiopia 20 years ago. Initially, she lived in Iraq with her husband whom she later separated from. This coincided with the war in Iraq that drove her out of the country to Jordan. Shortly after her arrival in Jordan, Nour realized that she had to work to be able to survive and so she began working as a domestic worker.
During her years in Jordan, although she has not experienced it herself, she has witnessed the abuse and humiliation of domestic workers from various nationalities. She has seen fellow DWs being mistreated, asked to sleep on the balcony in the cold winter and physically abused.
Nour spent some time without a valid residency permit and although she knew it would put her at risk, she was not able to ignore the violence she was witnessing. So, she used to approach employers pretending to work for the Ethiopian embassy to convince them to improve the situation of the domestic workers working for them. Sometimes, she threatened to report employers to the embassy unless they treated the domestic workers better. Nour also aided domestic workers by giving them money and helping them find a better place to stay.
After a while, Nour managed to get a valid residency permit. However, even after obtaining a legal status in Jordan she had to stop taking risks because she saw that workers were being deported for defending human rights. The Jordanian police were accusing these activists of insulting the government, and such allegations were sufficient for their deportation. For a while, she had to choose to step away from fighting for other domestic workers for her own safety. Later on, Nour found other domestic workers who shared similar values and goals. Excited, she joined the Domestic Workers Solidarity Network in Jordan (DWSN). With this network she is able to continue defending domestic workers and does not have to do so alone.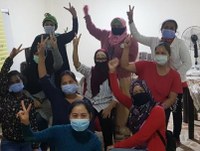 Although the main idea for the drawing was Nour's, she worked with others in the network to develop and draw it. Nour encouraged Sayed, a fellow member of the network, to draw this image and develop the idea with her. He wanted this image to shed light on the importance of Domestic Workers rights. The drawing submitted to the IDWF consists of different colors and shapes that represent various nationalities: "If we unite we can do the impossible," Nour said. The candle represents the DWs making many sacrifices for their families rather than living and working for themselves.
"Domestic workers do not work for themselves, they enter this sector of work to support their families," explained Nour. "I often ask myself why do we do this? Why don't we think of ourselves?" She continued. Nour's devotion to her family created her life path, as it did for many other domestic workers. Alone, they cannot fight the hardships of life, but bound together, they created safer environments and better futures for themselves and their families.
---
[1] The domestic worker wanted to remain anonymous. For the purpose of this story, she chose the name "Nour."
You can get involved and support the sustainability of our 590,000 strong movement.
We hope you see yourself reflected in these pages so we can envision a world where we are cared for.