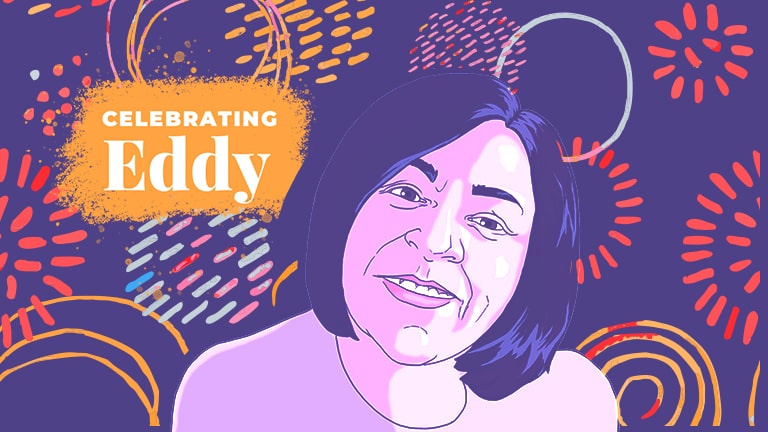 Eddy: Santiago, Chile
After 43 years in the sector, Eddy knows all too well that domestic work takes a physical toll. It's nice to know, she says, that there will be a pension at the end. "If I have a contract, I will have a pension." But Eddy didn't always know the importance of a written contract, and credits the IDWF and her local union for delivering this vital awareness to domestic workers in Chile.
Eddy began her career as a domestic worker in Santiago at the age of 12. Though she was hired to clean the inside of the house, cook, and provide child care, her employer slowly added additional responsibilities without a commensurate increase in pay. When Eddy found herself working overtime to maintain the garden, vacuum the car and clean up after the family dog, she complained to one of her sisters, who encouraged her to join the domestic workers union FESINTRACAP (Federación Nacional de Sindicatos de Trabajadoras de Casa Particular; an IDWF Affiliate), and to get a written and signed contract.
In the past Eddy had been misled about the importance of written contracts. One employer told her she wasn't eligible for a contract because she didn't work enough hours. Another refused saying it was too expensive. But at union meetings Eddy learned that without a written contract domestic workers have little recourse when a situation sours. And contracts are a requirement for national social security schemes. FESINTRACAP has fought tirelessly for the inclusion of private domestic workers in Chilean employment insurance and pension schemes, and pandemic emergency payments to workers. But in order to be eligible, workers must be formally employed; you can't apply without a written contract and 3 official pay slips. When the pandemic hit, Eddy – like many of her colleagues – was sent home without salary. Because she had the necessary documents, she received enough in benefits to dull the sharp edge of temporarily losing her livelihood. For workers without documentation relief was difficult – if not impossible – to access.
Thanks to the organising efforts of the IDWF and FESINTRACAP in Chile, domestic workers like Eddy are learning their rights, while the national government is taking a more progressive approach to inclusion of domestic workers under labour protections. Chilean domestic workers now have one of their own – Luz Vidal Hiriqueo, a former domestic worker and rights activist –as the Undersecretary of Women and Gender Equity. Eddy feels the tide turning for domestic workers in general, and says she's happier in her work now that she has a written contract, the promise of a pension, and the sisterhood of the union behind her. But there is still work to do in securing rights for all domestic workers: "Young women would rather work informally. They don't want to go against employers." Eddy will continue to stand with the IDWF and her union to advise these young workers to demand their rights, written contracts, and all benefits for which they are eligible – and to join the union. She believes that all domestic workers should remind each other of the importance of their contributions – and make sure that employers recognize the value as well: "We raise your children. Without us your house would tumble down".