Indonesian migrant domestic workers in Malaysia, Singapore and Hong Kong told their stories under COVID-19
The protection of Indonesia migrant workers will improve only when the government are taking serious to implement the new law.
Details
On 30 August 2020, The Indonesian Migrant Domestic Workers Association, Malaysia (PERTIMIG) organized a talk show on migrant domestic workers via zoom in which 50 Indonesian domestic workers from across Indonesia, Singapore and Hong Kong participated. The objectives of the meeting were to remind and push the government of Indonesia to implement the law 18/17 on Protection of Indonesian Migrant Workers and bring the regulation (aturan turunan) to the table as soon as possible. Both the law and regulation can help relieve domestic workers from overcharging, falsification of documents, agency fees, training fees, debts bondage during a recruitment process in the country of origin and other practices.  The new law involves IMW placement agency in the recruitment process and strengthens the government role at local and national level to ensure migrant workers are protected.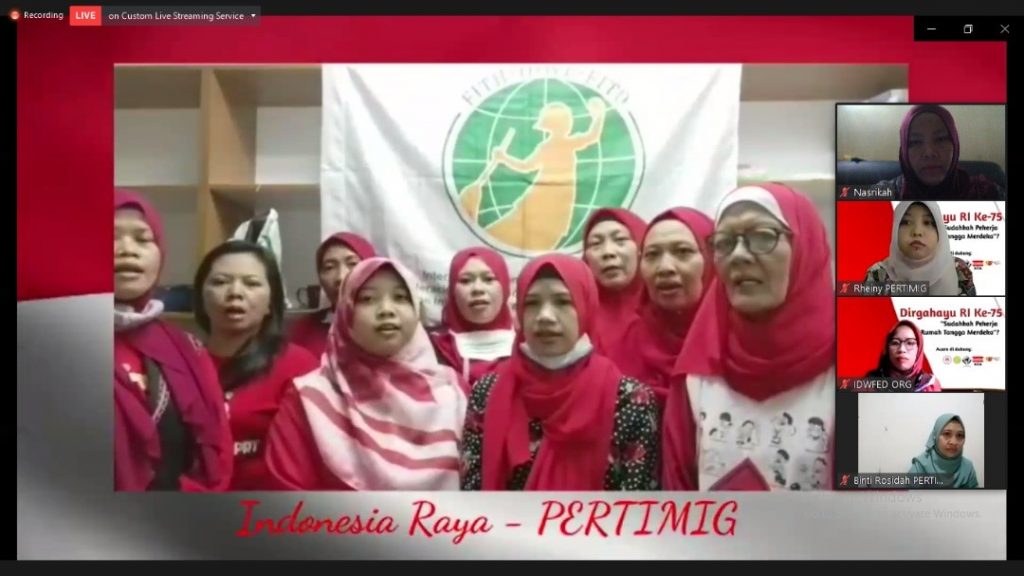 Binti Rosidah, PERTIMIG leader said that migrant domestic workers in Malaysia are at high risk because the Employment Act 1955 does not ensure the protection of domestic workers because they are not recognized as workers.
The Memorandum of Understanding on protection on migrant domestic workers between Indonesia and Malaysia expired in 2016. In the meantime we have been additionally struggling in the fight against COVID-19. We launched an involvement with local Unions and NGOs to advocate for the reform of the labor law in Malaysia. She lastly emphasized that "we need recognition, we need domestic workers' bill and ratification of C189 is key for us and our future'.
Novia Arluma, From Suara Kita Singapura said
"We are facing the same issues in Singapore, we regularly receive calls and complaints from domestic workers who are dealing with abuse, overcharging, payroll deductions and other forms of violence. There currently is no bilateral agreement or MoU between Singapore and Indonesia. These problems will not see an end if laws and regulations in our country do not improve."
Nur Halimah, a coordinator DPLN SBMI Hong Kong said
"Hong Kong is facing less legal challenges than other countries in Asia because domestic workers are allowed to establish and join unions and are protected by the law. This doesn't mean we are free from abuses, violence and other labor violations. Our organization mostly receives on overcharging practices. She raised the concern that "protection from destination countries is not enough, the country of origin must have a clear policy and provide legal certainty for migrant domestic workers."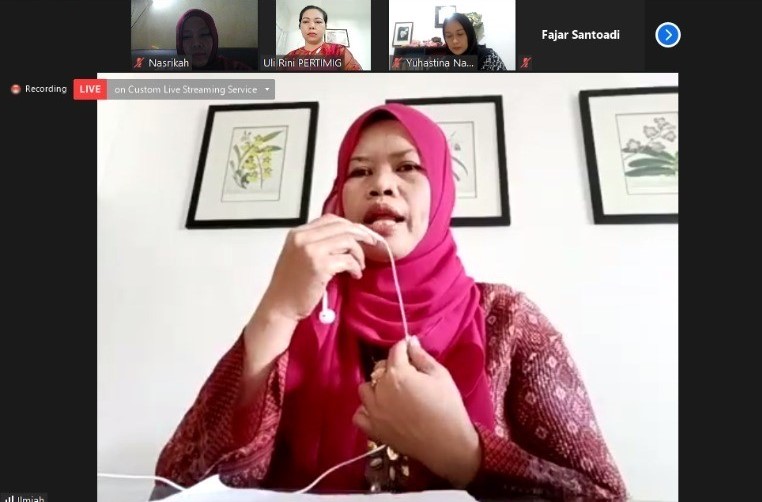 Savitri Wisnuwardhani, coordinator at Migrant Worker Network (JBM) in Jakarta said that
"The protection of Indonesian migrant workers will improve only when the government takes serious measure to enforce the implementation of the new law." She explained there seems to be challenges lack of coordination between local and national level within government agencies. She called on all migrant workers' unions and communities to work closely to advocate for migrant workers' and for their problems to be taken seriously by the government."
PERTIMIG organized a poetry-reading competition among the Indonesian migrant domestic workers in Malaysia where each of the workers wrote her poem and expressed her feelings and hopes. This was a part of an initiative to relieve stress during COVID-19 pandemic. This event was supported by International Domestic Worker Federation (IDWF), Jaringan Buruh Migran (JBM), SBMI DPL Hong Kong and Suara KITA Singapore.