In Malaysia, migrant domestic workers held social dialogue with the ministry, trade unions and NGOs to demand an inclusive labour rights protection
The event titled "Inclusive Labor Law Reform: Migrants and Domestic Workers Have the Rights Too!", was the first part of the migration dialogue series to commemorate the International Migrants Day 2020.
Details
Indonesian Migrant Domestic Workers Association (PERTIMIG), Association of Filipino Overseas Domestic Workers (AMMPO) and International Domestic Workers Federation (IDWF) jointly organized an online social dialogue last Sunday, 6th December 2020. More than 60 participants attended the dialogue via zoom, most of whom are Indonesian and Filipino migrant domestic workers (MDWs) in Malaysia. The event titled "Inclusive Labor Law Reform: Migrants and Domestic Workers Have the Rights Too!", was the first part of the migration dialogue series to commemorate the International Migrants Day 2020. The dialogue series aimed to push for MDWs legal protection through the existing labour law reform, as well as to strengthen the dialogue among different stakeholders on migration issues, especially trade unions, NGOs, and Malaysian government, the Ministry of Human Resource (MoHR).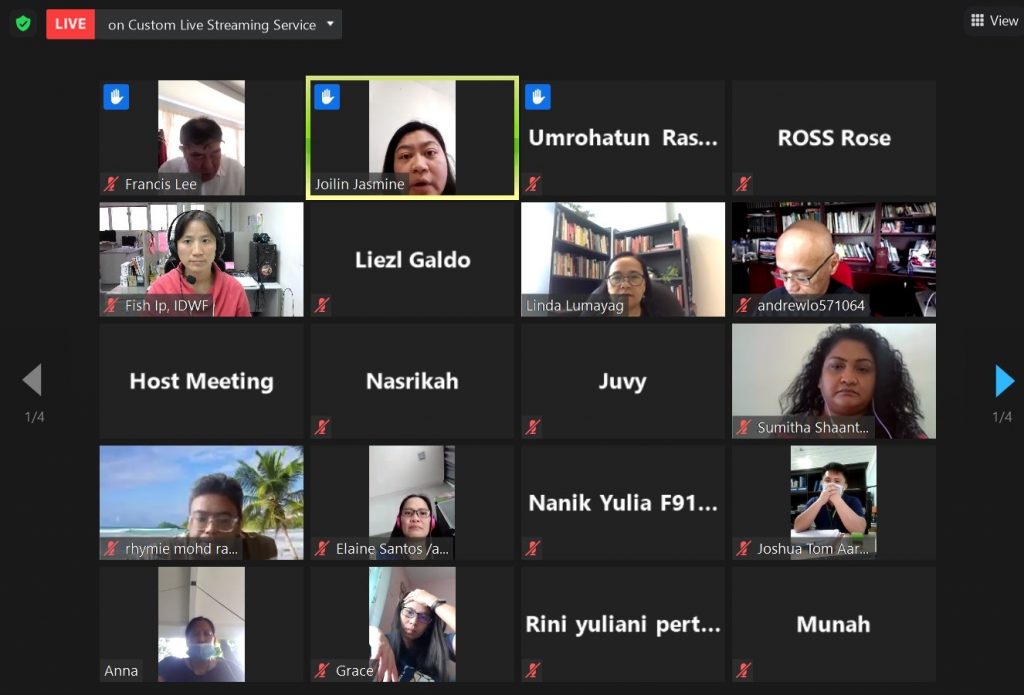 Malaysia is the destination of over 120,000 MDWs from 13 different countries, where the majority of them are from the neighbour country – Indonesia. However, ILO estimates that the real figures could reach up to 400,000 due to the prevalent numbers of undocumented workers. MDWs are among the most vulnerable workers in Malaysia as they lack legal protection throughout the migration cycle. A recent case showed an Indonesian domestic worker was severely abused by her employer. She was beaten by blunt object, cut by sharp object, scalded with hot water and not given food. This kind of severe abuse is not an isolated case in Malaysia. During the pandemic, our affiliate in Malaysia, AMMPO, and the PERTIMIG, an Indonesian migrant domestic workers group organized by IDWF, received over 300 case reports. The cases ranged from termination, unpaid salary for up to 10-24 months, visa extension difficulties, passport confiscation, sickness, abuses, and deportation.
The leaders of the associations explained that it has been very challenging for them to reach out to the workers who need helps, especially when they themselves are also affected by the movement restrictions and increased workloads during the pandemic. "We tried to help as much as we can and gave advices through our phones. But many are afraid to file a complaint because employers and employment agencies are confiscating their permits and passports. It is very risky as they can become undocumented." said Uli Rini, PERTIMIG leader. AMMPO and PERTIMIG have partnered with the IDWF and local NGOs to handle some of these cases and deliver humanitarian relief to more than 400 MDWs in March to December.
In the next presentation, Mr. Rhymie Mochamad Ramli, the Senior Assistant Director of the Labour Department, MOHR Malaysia, stated that the Employment Act 1955 covers some provisions for domestic workers. This includes protection on payment of wages – wages to be paid no later than 7 days after the wage period ends, the manner of payment, actions regarding the failures of wage payment. Mr Ramli said "we are currently proposing to change the term "domestic servant" into "domestic employee", in the Act to be in line with the ILO recommendation. But it hasn't yet been tabled in the parliament. We hope it can be tabled soon in early 2021." As a short-term solution, the Labour Department is currently drafting Domestic Workers Regulation under the MOHR. However, the long-term solution is to have a specific National Law on Domestic Workers. Mr. Ramli acknowledged the prevalent violations done by the employers in Malaysia, which ranging from minor cases to severe ill treatment. He added that this attitude will be punishable by the law. MoHR has been involved in the enforcement of Anti-Trafficking in Person Law (APTISOM Act) involving MDWs victims. He further appeal to the employers in Malaysia to treat domestic workers as human being and fulfill their responsibility, including not to held their wages and allow them access to communication.
Andrew Lo, the MTUC Representative of Serawak Malaysia, stated that the current political development and vigorous debate between trade unions and employers have delayed of the Employment Act Amendment process since 2019. Mr Lo also expressed his two caveats regarding the issue; firstly, the proposal lacks substantial provisions for migrant workers and migrant domestic workers except for rest-day. Secondly, according to Mr Lo, the parliament has also approved the proposal that any employer who employs foreign workers must get permission from the Labour Department.
As a home to more than two million migrant workers, employment agencies in Malaysia have highly profited from the ill recruitment practices. Mr Lo added "the overcharging practice is what often makes employers withhold the worker's salary as they did not want to lose the investment they paid when hiring the worker." He further suggested that Malaysia can move to the government-to-government placement scheme to replace the current one.
On the contrary, Sumitha Kishna, a migrant workers rights lawyer from Our Journey stated that it would be impossible to remove employment agencies from the placement system as this is not in favour with the country of origins priorities. "We need to know how to manage the recruitment agency. This can be done by pushing ethical recruitment and not to get rid of with them," said Sumitha. In regard to the protection, she also mentioned that the Malaysian government has to review the mandatory live-in requirement and address the growing demands of live-out and part-time domestic workers. According to Sumitha, this will reduce abuses and other cases caused by isolation in the private households.
This event has provided rich and fruitful information regarding to the development of the current policy in Malaysia. It has also enabled migrant domestic workers to lead their campaign despite all the limitation. Juvy, a leader of AMMPO said in her speech, "The human rights of MDWs has been disproportionally affected. We have just started our legal battles for inclusion and legislation for domestic workers and migrant workers in this country and our own."
There's still a long way to reach the recognition and legal protection for migrant domestic workers in Malaysia. Organizing MDWs is the key to empower and increase their power, a value in which IDWF has always stand for. IDWF has been supporting our affiliates AMMPO and PERTIMIG in Malaysia in their advocacy efforts; we have provided inputs to the draft of Domestic Workers Regulation last year, several audiences have been made with MoHR, we also have been working together with trade unions and NGO allies to push for an inclusive labour rights protection for MDWs through the Employment Law reform process.