CSW60: Investment in social protections for care workers will make our societies more just, equal, and healthy
Contributors: Jill Shenker
Remarks by Jill Shenker, North America Coordinator for the International Domestic Workers Federation, who spoke about the need to value care work.
Details
UN CSW60 High-level event on Gender Equality and Global Call to Action on Equal Pay, March 16, 2016
Remarks by Jill Shenker, North America Coordinator for the International Domestic Workers Federation, who spoke about the need to value care work.
You can watch the 2-hour session, which included a discussion between UN Women Executive Director,  Phumzile Mlambo-Ngcuka and Canadian Prime Minister, Justin Trudeau. Followed by the panel with Phumzile Mlambo-Ngcuka (UN Women), Jill Shenker (IDWF), Renana Jhabvala (SEWA), and Abby Wambach (two-time Olympic Gold Medalist and FIFA Women's World Cup champion).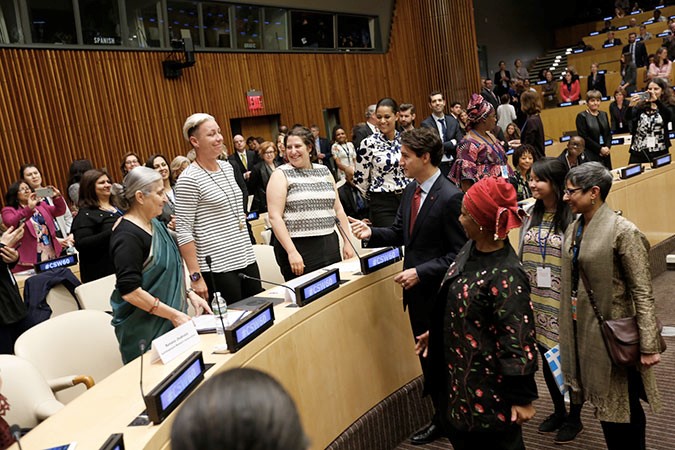 Why is the issue of the gender pay gap so important to you and to UN Women's work? Why does the gender pay gap matter?
Last week I was in Hong Kong for a planning meeting with the International Domestic Workers Federation. On the train, a young Filipina offered her seat to one of my colleagues, who is an older Filipina woman. So, they began to talk. The young Filipina is a migrant domestic worker in Hong Kong. In their back and forth, my colleague learned that she's happy in her job, that she has it better than others. She works from 5am-9pm, and she emphasized that she can do her own thing after 9pm. She shares a small room with the 7 year old child she also takes care of. She earns $430 HKD per month, or about $55USD. And then the she exited the train.
The ILO estimates there are 67 million domestic workers around the world, 83% are women, and 1/4 of whom are international migrants. Undoubtedly, this worker on the train made the choice to work as a migrant domestic worker in Hong Kong in order to support family back home. The huge lack of decent jobs and ever increasing inequality push millions of people to make the difficult and painful choice to leave their families & communities, and travel to an unknown place where they most likely do not speak the language, are usually required to live inside their employers home, and often pay enormous recruitment fees for this "opportunity" to be a highly exploited, extremely vulnerable migrant worker.
A study released today by Justice Center Hong Kong found that 1 in 6 MDWs surveyed fulfilled the criteria for victims of forced labor. This same study found that that excessive recruitment debt was the biggest predictor of whether someone would be vulnerable to forced labor.
For domestic workers, equal pay for work of equal value demands 1) recognition as workers and the accompanying labor rights, and 2) migrant worker protections. While not every domestic worker is trafficked or even exploited, every domestic worker is vulnerable to abuse in the absence of fair standards.
As the Myrtle Witbooi, President of the International Domestic Workers Federation and SADSAWU, the South African domestic workers union, often says, "Domestic workers are neither servants, nor slaves, nor members of the family. Domestic workers are workers!"
What is driving the gender pay gap?
Occupational segregation by gender is deeply tied to pay inequities. And while we must transform gender stereotypes and open up more opportunities for women, we must also, simply, value women's work more across the board. And when we achieve a just and dignified valuing of paid and unpaid care work, we will have achieved a deep cultural and political shift towards justice and dignity for all people.
Unpaid care work lands squarely on the shoulders of women, acting as a barrier to gender equality in the workforce. The International Trade Union Confederation (ITUC) recently published a report on the care economy, which explores the impacts of the fact that women do 2.5x as much unpaid care work as men. A decrease in the amount of time women spend on unpaid care work is directly linked to an increase in women's workforce participation rates.
As we know, women are increasingly entering the workforce, but there's been no plan to account for the care work that remains to be done. Often, domestic workers, and increasingly migrant domestic workers, are filling in the care gaps for extremely low wages and with little formal protections. The study reveals that public investment in paid care jobs provides women both with the independence to find and keep jobs in other sector, or to be paid fairly as care workers and domestic workers.
Despite the huge supportive economic role of domestic work, and the inherent value of raising our children and caring for people, domestic work is one of the lowest paying jobs with the least social protections.  It's the ultimate of women's work, and relatedly, has been systematically excluded from labor and social protections. It's time for this to end.
Globally, over 40 per cent of the world's domestic workers do not enjoy minimum wage coverage despite the fact that in the countries in which they work minimum wages are set for other workers (ILO, 2013a). Across the United States, affiliates of the National Domestic Workers Alliance have won DW Bill of Rights in 6 states. But right now, domestic workers in California have to fight again to defend the right to overtime protections for personal attendants, such as nannies and caregivers for seniors and people with disabilities.
This year we celebrate the 5th Anniversary of the historic victory of the Decent Work for Domestic Workers ILO Convention C189. Since passage, 22 countries have ratified and nearly 50 have made related policy changes. None of this would be possible without the courageous organizing of domestic workers. And we will need strong enforcement measures, protection from retaliation, and ongoing worker organizing in order to ensure any of these gains are enforced.
What do you see as the priority actions that are needed, and who needs to be involved?
First, the way both paid and unpaid care work is undervalued is a major structural barrier to achieving equal pay for work of equal value. It's time for all of us to recognize the deep human value and economic value of caring for our homes and families.
Domestic work is the work that makes all other work possible. Without someone taking care of our homes, children, and aging parents, people would not be able to go out to do other jobs. Shifting the value of care work is fundamental to achieving women's empowerment. That shift requires both cultural change as well as policy change. Public investment in paid care work makes sense from a social policy, gender equality and economic perspective.
Investment in social protections for this fundamentally important care work will not only make our societies more just, equal, and healthy, but will stimulate the economy with the creation of millions of jobs. Job quality could improve not only for the domestic workers, but also for the women who depend on them, alleviating some of the pressures of unpaid care work that have limited women's access to better paying jobs.
Secondly, and most importantly, we must invest in democratic membership based organizations of poor and working class women. And these organizations should be central to creating and negotiating the solutions to gender inequality.
I am here with a global union delegation of 160 women labor leaders at the UNCSW60 – representing 70 million women workers around the world. Today, 60% of countries deny or restrict workers collective bargaining.  For example, right here in the US, domestic workers are excluded from the right to form unions.  These violations of freedom of association affect women disproportionately because women make up the majority of the world's low paid workers. Ensuring access to collective bargaining would have a profound impact on women's ability to move away from poverty and to negotiate for a living wages, better working conditions, and access to social protections.
Source: Jill Shenker