A light of hope for millions: IDWF and ATUC join forces to ensure decent work for Domestic Workers in the MENA Region
There are approximately 6.6 million domestic workers in the Middle East and North Africa (MENA) region, with the majority of them being migrant women. However, despite its invaluable contribution to society, domestic work both considered a low-skilled labor, and is not even recognized as work in most Arab countries. The first and essential step towards changing this reality is for the international labor movement to get involved in the domestic workers' struggle in a concrete, proactive, and powerful way.
There is a huge gap between the current domestic workers' labor conditions in the MENA region and the standards of decent work set out in the International Labor Organization's Convention C189 on Decent Work for Domestic Workers, which constitutes a flagrant social injustice. Likewise, their living conditions are in flagrant contradiction with the principles and values of the International Human Rights Declaration.
The underlying racist and gendered dynamics behind the domestic work in the MENA region are obvious: the fact that this workforce is composed of impoverished women and girls from South who came to take care of families showcases intersecting vulnerabilities, where race and gender have a predominant role in determining the treatment, the remuneration and the human worth of the domestic workers. The patriarchal control over women's lives and bodies remains the root cause for injustices for DWs.
The Kafala system, a restrictive immigration regime of laws, regulations, and customary practices that ties migrant domestic workers' legal residency to their employer, puts these workers at the mercy of their "sponsors", who often withhold their identity documents, have control over all aspects of their lives, and subject them to both exploitation and violation of their human rights. If the employment relationship ends, even in cases of abuse, workers risk losing their residency status and consequently detention and deportation. Plus, they are reluctant to terminate their contract or report abusive employers because of the fear of arrest, retaliation, being falsely accused of theft, or having its complaint ignored by authorities.
It's not a coincidence that at least one worker under the Kafala system dies every week in Lebanon from unnatural causes. These "mysterious" deaths are either dismissed as suicides or become closed files without sufficient—or any—investigation. Despite years of campaigning by migrant domestic worker groups and human rights organizations, the police and judicial authorities fail to treat certain abuses against domestic workers as crimes. For migrant domestic workers in Lebanon, there is no access to justice, let alone justice. The kafala system is incompatible with Lebanon's own national laws that safeguard freedom and human dignity, protect workers' rights, and criminalize forced labor and human trafficking. It also directly contradicts Lebanon's international obligations, such as the International Covenant on Civil and Political Rights, the International Covenant on Economic, Social and Cultural Rights, the Convention on the Elimination of all forms of discrimination against women, the ILO Convention 29 on Forced Labor, and other treaties to which Lebanon is yet signatory.
Given such inconsistencies and impunity, the continuity of the kafala system in Lebanon can only be explained by the fact that both the public and private sectors massively benefit from the profits it generates: USD 100 million per year, of which around 60% goes to employment agencies and 40% to the State. The systemic exploitation of 250,000 women migrant domestic workers (most of them from African and Asian countries) and their exclusion from national labor law protections, enables such level of profits.
Against the backdrop of this injustice, the agreement recently signed between the International Domestic Workers Federation (IDWF) and the Arab Trade Union Confederation (Arab TUC) lights a ray of hope. This is a unique opportunity to strengthen the promotion and protection of DWs' rights in the MENA region by supporting their right to organize, ensuring decent working conditions, and combating all forms of exploitation, abuse, forced labor and human trafficking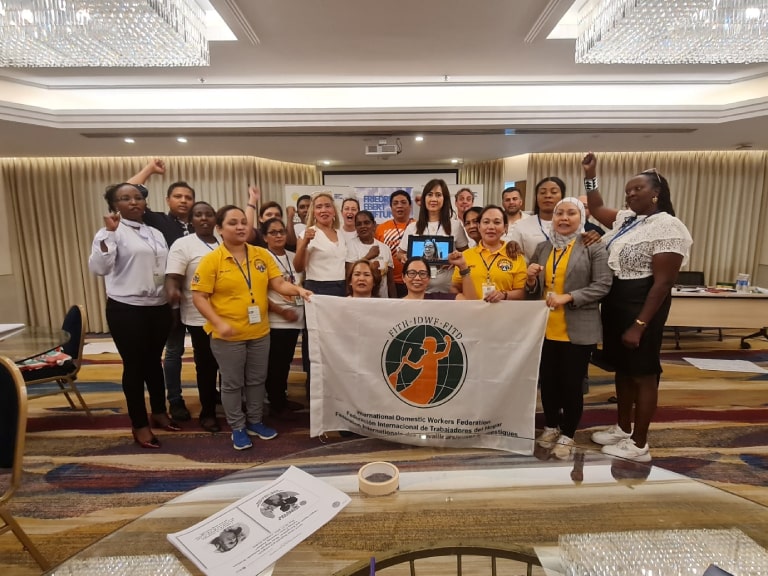 According to Jihene Belgasmi, IDWF's Regional Coordinator for the MENA region, "this collaborative commitment is a crucial first step in recognizing that the struggle for the dignity and labor rights of domestic workers is an integral part of the global trade union struggle. It opens up a new horizon for achieving social and economic justice for migrant domestic workers in the MENA region. This collective effort aims to ensure that every domestic worker's invaluable contribution to our society is recognized and valued."
Migrant domestic workers do not have freedom of association or the right to collective bargaining, two essential rights for their demands to finally be heard and addressed. Having
the support of global union federations provides a layer of recognition necessary for their liberation. The IDWF-ATUC partnership is a significant step forward in building a powerful participatory alliance that enables us to achieve meaningful and tangible changes in the unfair and vulnerable situation faced by migrant domestic workers in the MENA region, in line with the principles of international labor conventions.
Our motto has always been: "Nothing for us without us." Today, we would like to empower it by adding that "everything is possible for us if we have the support of allies committed to our cause and willing to include us in their priorities." IDWF is pleased to have such a key partner rallying behind our movement, standing for the dignity, justice, decent work, and human dignity of all domestic workers in the MENA region. United, we are strong!