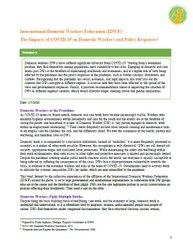 The Domestic Work Policy Brief aims to put the voice of domestic workers (DWs) at the centre and the forefront of their movement. As IDWF has multiple affiliates around the globe, who are domestic workers' organizations and unions fighting their daily battles for decent work, we use this space to showcase their voice and their advocacy efforts. The brief aims to stimulate and inform policy debates from the perspective of the workers themselves. It provides information on the conditions facing DWs in the wake of COVID-19 and the contextual specificities of each region, to highlight their approaches to and demands of decent work and justice.
Type: Policy Paper
Author: Roula Seghaier/IDWF
Date: May 1, 2020
This policy brief:
reviews factors behind domestic workers' compound vulnerabilities to COVID-19;
presents examples illustrating how each region is responding to the virus and the effects of policy on domestic workers;
proposes recommendations to policy makers, concerned employers, and international organizations.
View and download (PDF) :
The Impacts of COVID-19 on Domestic Workers and Policy Responses
Policy Recommendations on Domestic Workers under COVID-19: An infographic
IDWF Statement and Message:
May 1 : IDWF May 1st Message: Protect Domestic Workers' Rights, Fight COVID-19
March 18 : IDWF Statement on Protecting Domestic Workers Rights and Fighting the Coronavirus Pandemic
Regional Summaries:
Learn more about the contexts that our affiliates navigate in different regions:
In the Middle East and Gulf Countries: "Corona is not the Virus, Kafala is!"
In Asia: Alternative Livelihood for Domestic Workers Under COVID-19 Economic Crisis: Learning from the Best Practices in Asia
Advocacy by the IDWF affiliates
Our affiliates are representing the demands of their members and domestic workers (DWs) at large in their countries all over the globe. They have been doing massive advocacy work on COVID-19 ("Every action counts").
In Argentina, UPACP launched the following campaigns:
In Brazil, FENATRAD launched multiple campaigns at once: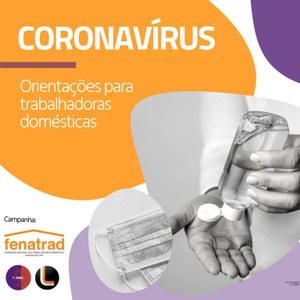 Information campaign for workers and their employers, to advocate for a paid leave for DWs for the period of the pandemic.
Petition on the topic of paid leaves.
Petition to pressure employers and demand a public emergency fund.
Official demand made to the Ministry of Economy demanding a special fund to support the unemployed DWs during the period.
Law proposal being finalized by allied deputies to protect DWs is to be presented to the Congress.
Brazilian domestic workers' children started a petition for their moms that was sent to authorities, influencers and journalists.
Public rejection letter to oppose the Temporary Measure 927/2020 that the government issued on March 22. The decree allows the suspension of workers without pay for 4 months under COVID-19.
In Hong Kong, FADWU issued the following statement 'Domestic helpers left vulnerable by unclear policy' – RTHK .
In Jamaica, JHWU is fundraising for DWs.
In Mexico, SINACTRAHO launched a campaign aimed at DWs to provide them with information on how to protect themselves.
In the Netherlands, FNV launched a fundraiser campaign to support DWs.
In Paraguay, SINTRADESPY issued a statement asking for solidarity and humanity.
In South Africa, SADSAWU created a petition calling for the relief fund to include precarious workers.
In Switzerland, SIT issued a statement asking to grant paid leaves to DWs, and additional compensations and rights for those who are employed in care for the elderly and the disabled. They have brought 10 demands to the Geneva Canton.
In the US, NDWA created a fund to support DWs who are out of a job.