On International Domestic Workers' Day, June 16, 2023 the global domestic workers' movement celebrates a historic milestone: a group of migrant domestic workers has just founded the General Domestic Workers Union in Bahrain, the first union of domestic workers in the country and the only one in the Arab states of the Gulf. This unprecedented achievement, supported by the International Domestic Workers Federation (IDWF), represents a ray of hope for around 100,000 women who demand decent working conditions and the respect of their human rights.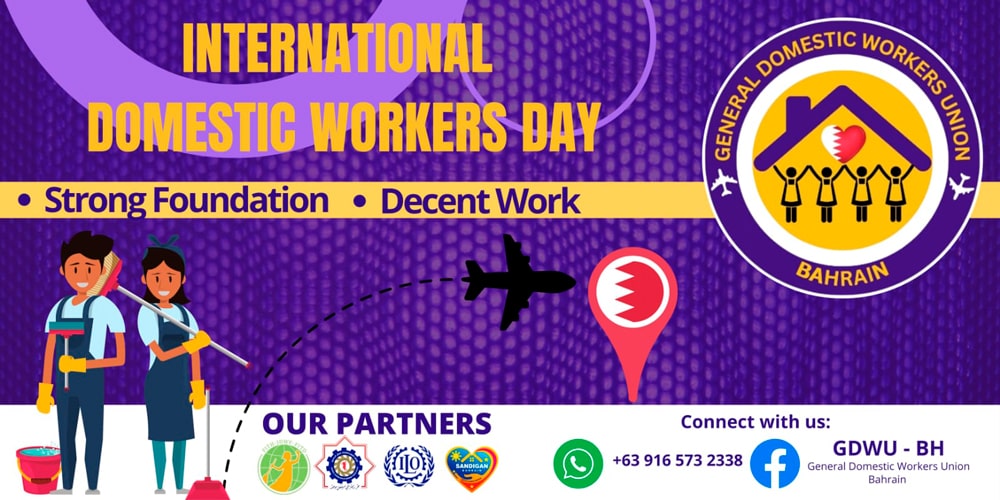 Although its valuable contribution to the economy and society is undeniable, domestic work is often not recognized as formal employment in most Arab countries. This misconception adds to the intersecting discrimination faced by migrant domestic workers based on gender, race, country of origin, social status, religion, and migration status, among others. Therefore, despite Bahrain's labor law establishing some regulations for domestic work, the rights stipulated for the sector are very limited. Domestic workers are unprotected and unrepresented.
Furthermore, like in other countries in the region, Bahrain operates under the Kafala system, a restrictive immigration regime that puts migrant domestic workers at the mercy of their employers or "sponsors," who withhold their personal documentation and have total control over their residency permits. This system facilitates rights violations and systematic exploitation of migrant domestic workers, most of whom come from Asian and African countries such as the Philippines, India, Indonesia, Sri Lanka, Bangladesh, Nepal, Ethiopia, Kenya, Uganda, and Ghana. They face all kinds of challenges and injustices such as: extremely low wages, delayed or non-payment of wages; long working hours and insufficient time-off; lack of social protection; limited freedom of association and collective bargaining; severe restrictions on freedom of movement and communication; poor living conditions; verbal, physical and sexual abuse, violence, and harassment; and no access to justice. They are often exposed to forced labor and human trafficking, with little prospect of obtaining redress.
In this challenging scenario, General Domestic Workers Union (GDWU) is born, a member-based domestic workers' union fostered by the IDWF and the General Federation of Bahrain Trade Unions (GFBTU) who supported work the organizing efforts throughout the process of foundation. GDWU has been founded with a firm determination to defend and protect domestic workers, fight for decent working conditions, and combat all forms of exploitation and abuse. In this regard, the recent alliance between IDWF and the Arab Trade Union Confederation (Arab TUC) will contribute to increasing the representation and visibility of domestic workers, and facilitate collective bargaining, enabling tangible changes in the conditions of vulnerability and rights violations faced by domestic workers, particularly migrants. The prospects are positive, but the challenges are many; so, the struggle must continue. Jihene Belgasmi, IDWF's Regional Coordinator for the MENA region, stated that "Rights are not given, they are taken." It is time for Domestic Workers in Bahrain to take their full rights!
Today, during the inauguration ceremony, IDWF's General Secretary, Elizabeth Tang, stated in her congratulatory speech: "Today is the International Domestic Workers Day and the birthday of your union! Today, it has been 12 years since the Domestic Workers Convention C189 was adopted at the ILO, and we consider it our twin-convention, because it inspired us to organize. The IDWF today has 88 affiliates. We hope that you could become 89, when you join us soon and become part of this global family."
The IDWF Global family congratulates the General Domestic Workers Union – Bahrain!