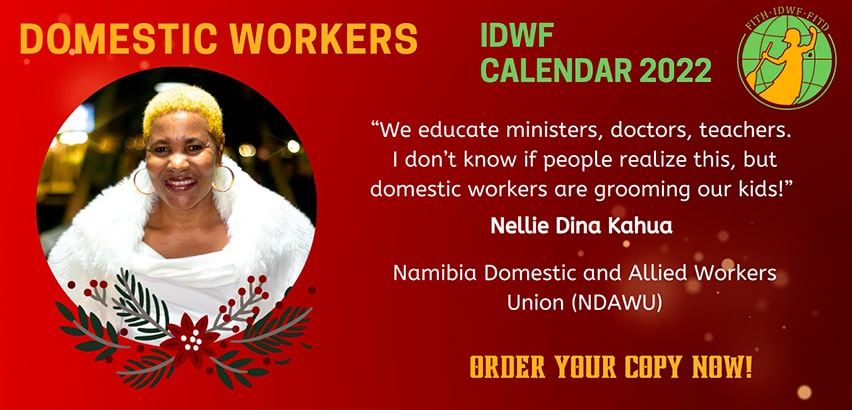 Details
"We have a master's degree in our minds!"
An ininterrupted education did not interrupt Nellie's ambitions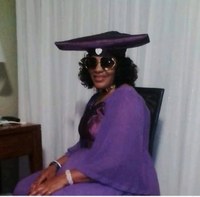 Nellie Dina Kahua, the General Secretary of the Namibia Domestic and Allied Workers Union (NDAWU), was very excited to learn of the art competition organized by the International Domestic Workers Federation (IDWF). She thought it as an opportunity to make her union visible in the country and world-wide. "Imagine the calendar in different households around the world! We wanted to show the history we are coming from," Nellie said. She wanted the voice of domestic workers and their artwork to decorate households of the world.
Nellie was a domestic worker herself and did not foresee herself becoming a union leader even in her wildest ambitions. Her mother passed away when she was 7, so she was raised by one man alone in tough conditions. She now understands that those difficult conditions molded her into the independent woman she is today. In 1985, Nellie gave birth to her first eldest child. She was very young at the time, and she stopped her schooling for one year. She later returned to continue her schooling until grade 9. In 1989, she had her second-born and became a full-time mother of two. Dropping out of school indefinitely, Nellie stayed in a farm with her father until her eldest turned seven and had to go to school. Nellie's younger brother helped her move to the capital city so her kids can have different lives and so Nellie can search for a job, but she was worried: "What will I do? I do not have any education; I am just a farm girl!" she remembers thinking to herself. It was 1997.
In the capital, Windhoek, Nellie's sister helped her look for a job. The first employment she found as a domestic worker was with a family of seven: grandparents, parents, and children. Nellie did not know from where to start because there was so much work to be done. She was first employed for one day per week, earning 25 Namibian Rands (1.74 USD). Her monthly salary was 100 Namibian Rands (7 dollars) for two years taking care of the elderly grandparents, the young children, the cleaning and tidying in the house. Nellie did everything except for cooking. It was a difficult and low-paid job but Nellie had no choice but to take care of her family. By the end of the two years, the family took her in for 5 days a week for another 3 years. By the end of that period, the woman employer lost her job, which meant Nellie lost her job because the family income was not sufficient to pay her. After six months of unemployment, Nellie started working again in the domestic work sector. She just focused on her job and nothing else, as her biggest ambition was to put bread on the table.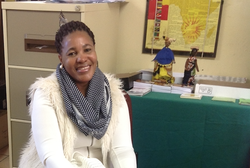 In 2008, Nellie met a woman, the former general secretary of NDAWU. "She is in the history of my life," Nellie laughs. "She is my role model, the woman who fought for me and with me." The former general secretary asked Nellie to join the union's meeting, but Nellie was hesitant. She explains that it is difficult to recruit domestic workers for the lack of information about what unionism is and how it could be beneficial for their working conditions. As a leap of faith, Nellie went to a union meeting on a Saturday afternoon that changed her life. The conversation tackled negotiations with employers and lobbying for a minimum wage. In this meeting, the members saw Nellie's potential and nominated her to be part of the voluntary committee in charge of recruiting more domestic workers.
Nellie was officially part of this committee from 2008 to 2012 while working as a domestic worker. Whenever she would go back to see her family in the countryside, she would meet domestic workers there and encourage them to join the union and inform them of the rights they need to rally around together.
"In 2012, my father got sick and I went back home, now having 7 kids to take care of," Nellie remembers her life interrupted. However, she continued to assist and recruit domestic workers. In 2015, NDAWU called Nellie, asking her to attend their congress. She hesitated again, as she was no longer working in the sector and was taking care of her family in the countryside. The union members insisted that she could at least pay them a visit, come as a guest. Once again, Nellie found herself overwhelmed and the event taking course before she realized what happened: she was nominated, voted for, and elected as the general secretary.
"I was shocked because I left my family behind at home. My youngest kids were 5 and 4, and my sister at home was unemployed," Nellie shares about the added responsibilities. "I still wanted to be part of the union's work and committed to making our organization visible," she continued. This came at a cost. For the entire period of 2015-16, Nellie could not return to the countryside because she worked without a salary in her new role. Now, leadership comes to Nellie as no surprise. She has the confidence inspired in her through the people supporting her. They put their trust in her and she will not disappoint them. She thanks IDWF for the continuous support in labor and resources, for the strengthening of NDAWU's work and building of the workers' capacities. So when IDWF proposed the calendar artwork competition, Nellie set her mind for NDAWU to win.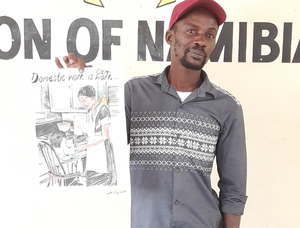 As the announcement stated that only five images would be accepted per union, Nellie wanted to organize efficiently. She asked the union members to nominate five of them or their children to come to the union's quarter for a drawing session. The previous general secretary of NDAWU, Nellie's predecessor and role model, was also eager to help with the event. She volunteered her grandchild, Dennis who is vocationally trained as an artist.
Nellie remembers Dennis very well as he grew up in front of her eyes and always knew he wanted to become an artist. When Nellie was a domestic worker, she used to rent a garage at his mother's place in the 1980s. Dennis' grandmother, former general secretary of NDAWU, was a domestic worker. His mother was a nurse. Although one generation separates him from domestic work, Dennis says that his mom and her siblings, now nurses and lawyers, were raised on a domestic worker's salary, so he is eager to help with the painting event. Dennis provided advisory on what material to purchase for the competition and provided support for the children involved. "I was confident we could win!" Nellie said, and she was proved right.
Looking at the winning image, Nellie says it represents her and many other domestic workers raising children and building their futures. "We educate ministers, doctors, teachers. I don't know if people realize this, but domestic workers are grooming our kids!" Nellie explained. Domestic workers are vulnerable, but their labor is valuable. Although many of us did not have formal education, we have a master's degree in the backbone of our mindset. This will never be taken away from us." It is high time the labor of domestic workers is recognized for what it is: essential, productive, and valuable.
We hope you see yourself reflected in these pages so we can envision a world where we are cared for.