IDWF Calendar of Domestic Workers Movement 2022
Details
Today, we tell our story through the Calendar of Domestic Workers Movements:
This is a calendar produced by us, for us, featuring our artwork, victories, and stories.
We Can Aspire for More: Lucía's work, dedication, and struggle
Lucía Guevara is 44 years old and is the Secretary of Labor Defense of the Union of Domestic Workers of the Lima Region (SINTTRAHOL), in Peru. She was born and raised in Huancabamba, a small town in the Sierra de Piura, in the coastal area of the country. She began working as a domestic worker when she was just 9 years old, at first to contribute to the family budget and later to be able to pay for her technical studies in nursing, where she specialized in geriatrics.
She joined SINTTRAHOL ever since the union was created. "It seemed to me that it was an opportunity to support many women domestic workers who are abused and whose rights are violated," said Lucía. "I myself have suffered many abuses and I managed to overcome them. That gave me the strength and the ability to support my comrades in the struggle," she continued.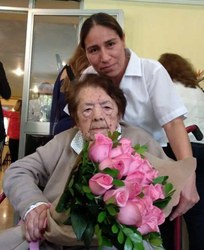 For Lucía, being a domestic worker "is a pride, because it is a job both difficult and dignified." Based on her personal experience, Lucía encourages domestic workers to aim for more: "A domestic worker can aspire to study and pursue a technical or university career," she said. "We just have to overcome the barriers of social prejudice that make us believe that we have no value other than to wash dishes," she emphasized.
Lucia submitted a photo to the International Domestic Workers Federation (IDWF) and it was chosen to be in our calendar. The story behind it is exciting: The photo was taken during the celebration of the 106th anniversary of the older woman who Lucía cared for. She was her patient for five years until she passed away in June 2021. "This photo is a gift from my patient's daughter, as a token of appreciation for my work and dedication. It is a beautiful memory of her, because it allows me to relive the moments that I shared with her, an adorable lady that I was very fond of," Lucía explained. "Working in a household taking care of an older person is far beyond a simple equation of a salary and job responsibility: it is a matter of mutual trust that goes through the heart," said Lucía, feeling very moved.
For Lucía, the IDWF calendar represents an achievement and a light of hope for the entire movement of domestic workers:
"Those who buy the calendar will be supporting thousands of domestic workers who, even in these times, are mistreated and their human and labor rights are violated," Lucía explained. "During the pandemic, our sector has been one of the hardest hit. For this reason, we need the help of all of you to move forward and continue in the fight for the dignity of domestic workers."
This IDWF Calendar is sold for fundraising purposes. At the same time, we hope that the calendar is not only a fundraising tool, but also a tool that helps us understand the ways in which our advocacy work intersects with yours.
You can get involved and support the sustainability of our 590,000 strong movement.
We hope you see yourself reflected in these pages so we can envision a world where we are cared for.