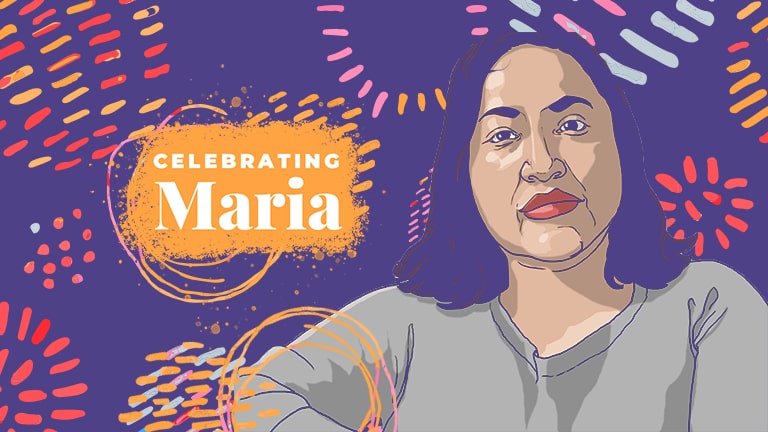 Maria: Mexico City, Mexico
Like many indigenous domestic workers in Mexico, Maria is an internal migrant – travelling from a small village to Mexico City. In the beginning she worked long hours, no rest time, little food, and extremely low pay (140 Mexican pesos, or $7USD for 10 or more hours of work per day). Maria heard that the wage for this job should have been twice that much, but "If you're from a different place they work you harder and pay you less." She felt she had no choice but to endure the conditions; as a single mother of 2 daughters, and sole breadwinner of the family, she desperately needed the income.
Years later – when Maria had the opportunity to move to a new employer – things were looking up. Until the pandemic hit. Fearing that Maria would infect the house with COVID-19, the employer asked her to join the household in lockdown – which was not an option for a single parent with children at home to care for. Like millions of domestic workers globally, Maria found herself without an income from one day to the next.
Maria first heard of SINACTRAHO (Sindicato Nacional Trabajadores y Trabajadoras del Hogar: an IDWF Affiliate) around this time, and that the union was providing emergency COVID-19 benefits to domestic workers through the IDWF Solidarity fund. Working with local affiliates, the Solidarity Fund has helped domestic workers like Maria in all regions of the world, with everything from food baskets and rent money to PPE and cell phone data. Through SINACTRAHO Maria was granted 1,300 pesos (about $64USD), which she used to buy candy to resell on the street for a profit in order to make ends meet.
Maria got more than just emergency relief by joining SINACTRAHO. She gained confidence through training and awareness events. She learned of her right to fair pay, rest time, days off, sick leave, and paid holidays. She learned skills for negotiating with employers. She also came to understand that her work was of value, and that she deserved to be treated with dignity. She learned the importance of being part of an international movement: the IDWF was instrumental in drafting ILO Convention 189 on Domestic Work, which was ratified by Mexico in 2021, leading to the inclusion of private domestic workers in labour laws for the first time in history.
Maria is back at work, and things are better than ever now that she knows her rights, and is backed by the collective strength of SINACTRAHO. She has a signed contract outlining a decent salary, medical insurance for herself and her daughters, and paid holidays. She plans to continue working through her union to gain and maintain the rights of domestic workers, and to struggle against the discrimination and mistreatment that is so often faced by indigenous women and girls in the sector. "The union is a sisterhood" she says. "None of us should be alone."