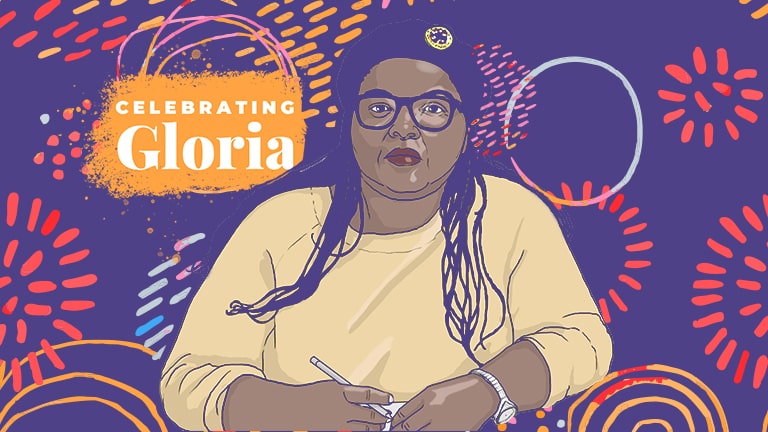 Gloria: Cape Town, South Africa 
Most days, Gloria is up by 5:30am to get a 7:00am bus to the Cape Town SADSAWU offices (South African Domestic Service and Allied Workers Union: an IDWF Affiliate), where she works as an organiser. No two days are alike at SADSAWU: You never know what's going to come through the door, and Gloria has learned to roll with it. Relating with the domestic workers who make up the membership of SADSAWU comes naturally; Gloria was a domestic worker for 9 years and remembers loving the work, and being really good at it. But excellence as a domestic worker is not what most South Africans remember Gloria Kente for – and she's had to learn to roll with that too.
15 years ago, as the sole breadwinner for 3 daughters, Gloria needed money, and work as a nanny fit the bill. She loved the job right from the start. "I loved the children, and became very close to them. They loved me so much." Unfortunately, this good situation turned bad when her employer's boyfriend moved into the house, and became abusive: He continually grabbed her, spit on her and verbally abused her with racial slurs. In despair Gloria wondered what to do. Her friends encouraged her to go to SADASWU for help.
From the first instant, Gloria felt she belonged. The SADSAWU staff thanked her for her story, and told her similar things were happening to other workers who could not come forward. They encouraged Gloria to bring a legal case against her abuser, and offered their support, which – over the next 2 years – made the legal challenge possible: "The union helps with doors you can't knock on by yourself because you don't know how."
In the end the courts decided in Gloria's favour, but the long-term outcomes have been mixed. There was no closure for Gloria, and the case is still on her mind. Though her abuser was sentenced to jail, she doesn't know if he served the time. He was required to pay damages, but the money never came. The trial got a lot of media attention, which illuminated the plight of the domestic worker, and saw SADSAWU membership levels soar, but Gloria and her family found some nasty public comments hard to take. "It was like being assaulted all over again".
The ultimate irony: Gloria's fight for a safe workplace apparently made her unemployable. Her employer let her go, and – being a now-famous whistle blower – she could not find work anywhere else. Thankfully, SADSAWU stepped in and trained Gloria as a speaker and organiser – a job she has been doing with passion ever since – but she was never able to work as a nanny again.
Gloria took a huge risk in calling her abuser out, and she wants to make sure her story is an inspiration rather than a cautionary tale. "You must speak up." says Gloria. "There are domestic worker laws in South Africa, and if we don't use them they won't work for us." Gloria sees the collective strength of SADASWU and the IDWF as essential to ensuring the protection of domestic workers rights to decent work, as part of a future where workers will never be forced to choose between demanding their rights and keeping their jobs.