The Story of Kety from IPROFOTH, Peru . IDWF Calendar 2022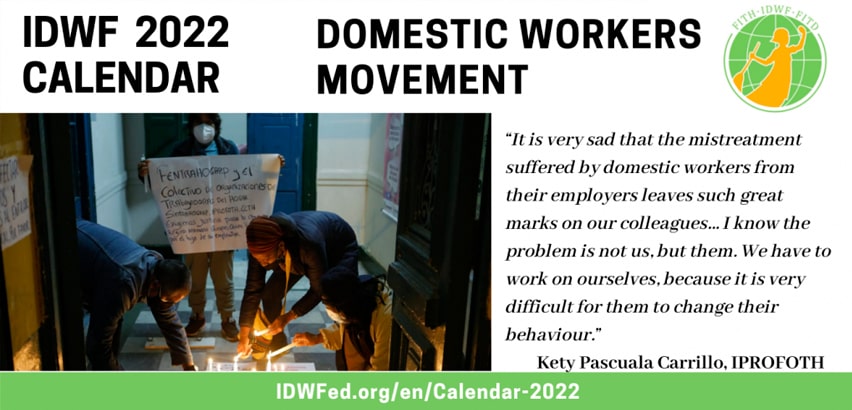 Details
"Give me a foothold and I will move the world" The Story of Kety from Peru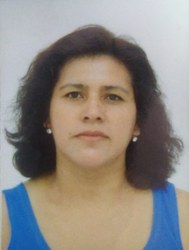 Kety Pascuala Carrillo Mercedes is 58 years old and a domestic worker who radiates light and optimism. She has been working since she was 15 years old, at which point she decided to leave Harauz, her hometown, and migrate to Lima, the capital of Peru, in search of better opportunities.
Kety has been a member of the Institute for the Promotion and Training of Domestic Worker (IPROFOTH) of Peru for 30 years. She approached the organization when her children were young, looking for a place where they would be cared for while she went to work: "They told me that IPROFOTH had a nursery for domestic workers, and that made me join the organization." Since then, Kety has never left IPROFOTH, who has been her greatest support on a personal and professional level.
To describe what IPROFOTH means to her, Kety quotes the words of the Greek scientist Archimedes: "Give me a foothold and I will move the world. This is what the organization means to me," she tells excitedly. As soon as she joined IPROFOTH, Kety realized that this was a space where domestic workers could do a lot: "At some point, with all the companions, we started a group called Mothers with Courage and Love. We made nougat and sold them. Nougat became so famous that we even sold them in Germany and Italy to well-known people in the organization," she says enthusiastically.
As a domestic worker, Kety has suffered enormous injustice and discrimination. One of her employers, for example, turned off the light so that she could not read or study. Still, she was buying candles and moving forward with her goal of incorporating new knowledge and growing as a union leader. However, Kety does not hold grudges and she is able to see the past from a gaze full of forgiveness and wisdom: "It is very sad that the mistreatment suffered by domestic workers from their employers leaves such great marks on our colleagues. But now, after a long time, I can think maturely and know that the problem is not us, but them. We have to work on ourselves, because it is very difficult for them to change their behavior," she points out.
Before a new law for the sector was approved in Peru (in 2020), domestic workers only had half of the labor rights of the rest of the workers. "We are not half people, we are complete people, with integrity, and we do not do our work full time not half time. So, what social inclusion are they talking about? "Asks Kety, questioning the systematic discrimination that has existed in her country towards domestic workers. "This is how we are the domestic workers and the workers of the world: we are complete women, with lives, with problems and joys. We are not a labor machine, we are dignified workers," she emphasizes.
The harsh experiences that Kety has lived did not feed her resentment or thirst for revenge, but rather spurred her to fight for the rights of her and those of her companions. And, in addition, they inspired her to create a beautiful illustration that would end up being selected to be part of the IDWF calendar. In that drawing, Kety expresses her feelings about the treatment of employers towards domestic workers and raises a strong demand for fair and dignified working conditions. This is how she describes what she wanted to convey through her powerful drawing: "With the broom we have to sweep away all discrimination, we have to sweep away the minds of employers who cannot understand that we are whole women."
The Institute for the Promotion and Training of Domestic Workers (IPROFOTH) aims to defend domestic workers rights through increased advocacy, visibility and representation in Lima, Peru.
Get involved and support the sustainability of our 590,000 strong movement.
We hope you see yourself reflected in these pages so we can envision a world where we are cared for.