Belgium: "We won't give up!" Fighting for a wage increase for domestic workers
Support domestic workers in Belgium for fighting wage increase!
Details
There is a legal sector for documented domestic workers.
Domestic workers are hired by a company that provides cleaning services in private households.
They are all contractual employees. They benefit from a salary scale and working conditions negotiated by the social partners. Working conditions and wages must be applicable to all domestic workers in this sector. Every two years, the social partners meet to increase the salary scales of all workers. It has been defined that the applicable margin for the salary increase is 1.1% on all salaries in Belgium.
In all other sectors, employers have agreed to increase the wages of all workers. However, the service voucher employers (domestic workers) refuse to raise the wages.
Domestic workers are the most vulnerable workers in difficult working conditions and they are among the lowest paid in Belgium.
In order to fight for the rights of domestic workers, a campaign "We won't give up!" has been launched by the CSC Alimentation et Services.
📣

 HOW to show your support to the 

domestic workers

 in Belgium?
👉 1/ Follow Facebook page:
Titres-Services CSC Alimentation et Services: https://www.facebook.com/TitresServices.CSC/
👉 2/ Sign petition:
Pour un accord sectoriel digne de ce nom dans les titres-services ! : http://bit.ly/2QYNvqL
👉 3/ Selfie
Share your message of support with a placard on social media and hashtag #Wewontgiveup
Let's spread the word!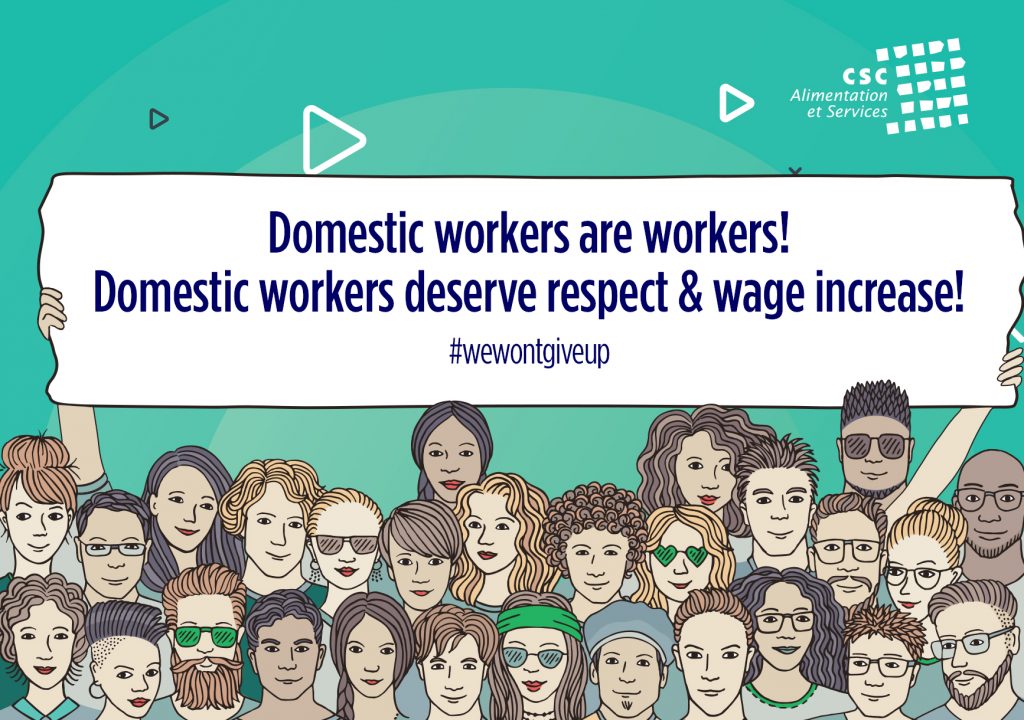 Source: Domestic workers: time for a fair collective agreement for 140.000 in Belgium