ILO launches a jingle competition to recognize 'Domestic Work is Work". This competition is organized by the 'Work in Freedom Programme' of the International Labour Organization.
Details
This competition aims to raise awareness on the need to protect and promote the rights of the domestic workers as 'professional workers' and to make their work more visible to the society.

The winning entry/entries will be used as a tool to create awareness among the domestic workers about their rights.Domestic workers perform a range of very important care work namely – cleaning, cooking, and taking care of household members, child and elderly care among others. It is important to recognize them as 'workers' who have equal rights such as —minimum wage, time off for rest, fixed working hours, and being treated with dignity among others.

To qualify in the final shortlist of winning entry/ entries, candidates must submit a jingle that has a catchy rhyme, witty, empowering, uses idioms or puns that the domestic workers identify with, and creates general awareness among the public on the rights of the domestic workers.
Target audience
Employers of Domestic Workers and common public: The importance of protecting and promoting the rights of the domestic workers as 'workers', making their work more visible to the society, enabling their rights as 'workers', strengthening employee-employer relationships, and promoting decent working and living conditions of the domestic workers.

Domestic workers: Helping them to articulate and speak on their rights such as —minimum wages, regular payment of wages, fixed work timings, rest periods, weekly offs, annual leaves, social protection, workplace safety and non-discrimination, right to collective bargaining for better wages and working conditions, organizing themselves, dispute resolution, right to ask for labour inspections, prevention of child domestic work, written contracts, no charge of fees by placement agencies, right to skill development and safe migration for work.
Start and End Date: The competition starts on 10 August 2017 and closes on 31 October 2017.

Who can participate: The competition is open to everyone residing in India and over the age of 18 years. Young writers and poets, jingle writers, social media and advertising professionals, students, trade union members, domestic workers, and civil society actors are encouraged to take part.

The jingle/poem can be submitted by an individual/ organization.

Guidelines on format and language of the entries:
The Jingle/poem should be in verse. It must have pun, and humour. Domestic workers should be able to sing it and use it as a tool of empowerment/awareness.
The jingle can be submitted in English, Hindi, or any Indian language (for languages other than English or Hindi a translation must be submitted in English/Hindi.). For regional languages, participants are free to use local idioms and colloquial terms that domestic workers can identify with.
The entries submitted should be easy to adapt later into a song. The ILO can, at a later stage, also convert the winning entry into an audio track which may be further used for advocacy films on the rights of domestic workers.
The jingles should not exceed 500 words. The entries must not have been published anywhere else.
Prizes
Three winners will be selected. The next top five entries will also be recognized. Prizes will include a certificate and prize money as under:
1 First Prize : INR 20,000/-
1 Second Prize: INR 15,000/-
1 Third Prize: INR 10,000/-
5 Recognition Prizes: INR 5000/- each
Winning entries will be featured on ILO website and widely promoted.
Requirements
To enter the competition, please fill in the online entry form before 31 October 2017 (latest 23:59, Indian Standard Time) and upload your entry in doc/pdf format. Entries are accepted in: English and Hindi and any Indian language (accompanied by a translation in either English or Hindi). Winners will be notified via email. To submit your entries, please fill in the entry form and submit your jingle/poem both via the form and on email: [email protected]

For further enquiries, please contact: Work in Freedom Programme, ILO Decent Work Team for South Asia and Country Office for India [email protected]
Judgement Criteria
A panel of distinguished judges comprising of — writers, sector experts, domestic workers, the International Labour Organization, government, trade union and employer will evaluate the top 10 entries. The decision of the panel will be final and binding. All submissions will be judged on the following criteria — creativity, accuracy of information, conveying the message of protection of the rights of domestic workers, versatility of the jingle/poem. Future adaptability of the jingle being converted into an audio track, used for ILO multimedia products.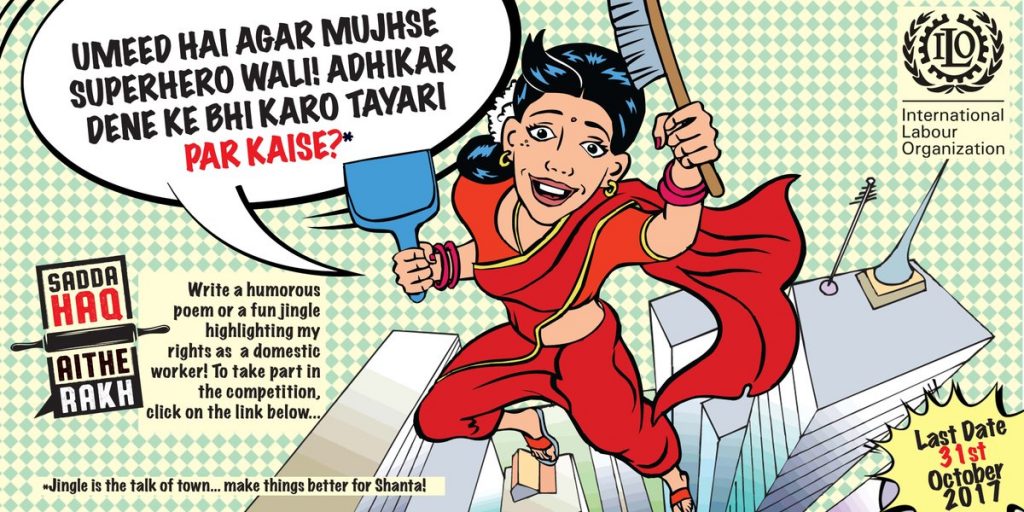 Source: "Decent Work for Domestic Workers": All India Jingle Writing Competition/ILO